Our Staff
About Pastor McKnight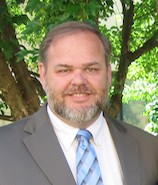 Our pastor's testimony is that he is sinner, but a sinner saved by grace! Joe McKnight was born into a pastor's home. At the age of six, he was first convicted of his own sin and need for salvation by the atoning blood of Jesus Christ. Joe knew from a very early age that God was calling him to foreign mission work. Following graduation from Bob Jones University in 1986 with a degree in Church Ministries, Joe was ordained and, along with his wife Penny (Lengel), served as a missionary in Jamaica from 1988-2004.
While serving in Jamaica, Pastor Joe began studying the doctrines of grace as presented in the Word of God. These precious truths have transformed both his life and his ministry. Today, he joyfully proclaims "Salvation by Grace Alone!" The ministry in Jamaica continues today under the leadership of Jamaican Pastors.
Since returning to the USA, Pastor Joe has served two congregations in Pennsylvania and Maryland. Our pastor also serves on the Executive Committee of the American Council of Christian Churches.
About Bro. Vince Kluth
Vince Kluth serves as the church administrator, supporting various ministerial and logistical matters behind the scenes, such that Pastor Joe can give himself continually to prayer, and to the ministry of the word. Vince also operates Holding Fast, a ministry aimed to hold to three foundational principles under attack today: God's sovereignty in salvation; God's miraculous work of a literal six-day creation; and God's verbal plenary preservation of His infallible Word.
Vince was mercifully saved by the Lord Jesus Christ sometime in the Fall of 1989. Shortly thereafter, he came under a lengthy personal tutelage of the late Mr. Bernie Alper, an older, shut-in Christian who spent his time searching the scriptures, listening to many Bible-based sermons, and holding regular weekly Bible studies. It was Bernie's dying request that Vince continue the weekly studies, which he has done since 1996, both in his home and in the homes of other gracious participants. Upon request, Brother Vince has preached at various churches, such as the Grace Baptist Church of Jacumba (California), Arabic Baptist Church (Maryland) and at two Presbyterian Churches (Maryland). He has worked as a church planter for two congregations (this is his third), two of which remain. He currently lives in Derwood, Maryland, with his wife Angela and three children.