One would think hired professionals and experienced contractors using architectural plans pointing to well-known building codes would not overlook certain fundamentals of construction. (I had not yet come to expect the steady stream of oddities of this building project.) While ambling around in my crawlspace one morning, I was quite surprised to find rising sunlight shining between my top plate and a floor joist (below).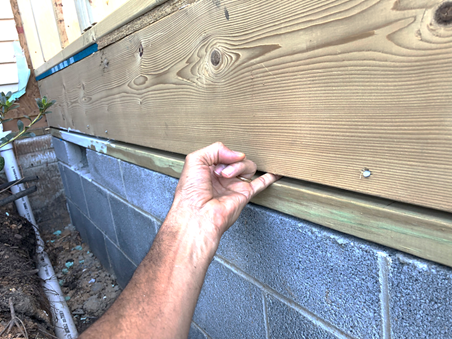 Hmmm ... I shouldn't be able to insert my finger under a load-bearing beam.
That light indicated one side of the house was actually not resting on the foundation. Not. One. Foot. I can't fathom what thought flickered in the mind of the framer's head on a hot July day, but a floating floor beam underneath a load-bearing wall just doesn't strike me as a solid idea. The foundation was painfully dug out, laboriously formed, expensively poured, and fitted with 10 inch by half inch anchor rods to attach the house to the foundation. What other purpose might my foundation serve?
Since I had previously fired that framer for other reasons, and was only now beginning to discover his mistakes, getting him back to fix the job wasn't an option. The new framer wasn't anxious to fix someone else's failures, so yours truly went about crafting hardwood pressure-treated shims to ensure a good connection. Copious amounts of liquid nails kept it in place and would block pathways for small critters. It was savable, but painfully so.
Once again, the spiritual ramifications flooded my mind. It seems these days there are churches detached from their Foundation. Oh, they have a beautiful structure. They are full of "good and godly men." They have choirs, comfy chairs, and color coordinated sanctuaries. There's a social program for every demographic group, and lots of golf-shirted leadership with modern lingo. What could be wrong? Plenty!
Do they preach from a real Bible or a counterfeit? Do they believe God's Word is inerrant, preserved and inspired, or that it has historical and scientific errors? When trouble comes, do they turn to tradition or confessions? Do they firmly stand on what God says and not budge?
Just like my detached foundation wasn't observable from above, but from a dark place below, so you too may discover a church is detached from the Bible when you are in a dark spot. You trust the foundation of God's word will support you. You're looking for biblical answers. They can't give any during your time of distress because they themselves are detached. They're just floating in the air. They are not far from the kingdom of God, but they certainly aren't attached to it.
Jesus described men who build on two different foundations. Whosoever heareth these sayings of mine, and doeth them, I will liken him unto a wise man, which built his house upon a rock ... and every one that heareth these sayings of mine, and doeth them not, shall be likened unto a foolish man, which built his house upon the sand.
Stay attached to Christ: for other foundation can no man lay than that is laid, which is Jesus Christ. May MBC never become detached from our Foundation, for it alone can bear our load through all storms.
Like this? Consider sharing it to Facebook by clicking the linked icon below.